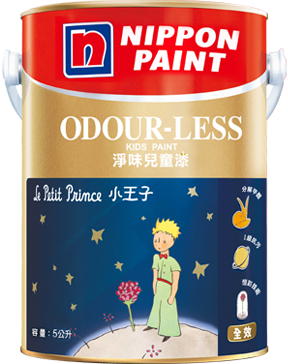 Anti-fungus
Moisture-proof
Anti-bacteria
Excellent washability
Hiding power
Cover hairline cracks
Nippon Paint Odour-less Kids Paint
Nippon Paint Odour-less Kids Paint (Interior Emulsion) is an environmental friendly and all-in one product with three core technologies: Formaldehyde Abatement, Anti-stain and Evoke Colour Brightness. It is eco-sense and capable of purifying air by abating harmful formaldehyde, transforming it into Water (H2O) in interior. It achieves the highest level to first-grade anti-stain. Meanwhile, it can evoke brightness, colourfulness and high saturation of finish coat. It utilizes unique Nippon Paint Air Guard technology and obtains GREENGUARD Gold Certification and Class A+ Label. It is also odour-less, eco-friendly and has first-grade anti-bacterial functions, so as to provide an all-around protection to your beloved.
Features
Formaldehyde abatement
First-grade anti-stain
Evoke Colour Brightness
First-grade Anti-bacteria Up to 99.9%
Eco-sense
Nearly Zero VOC
Odour-less, Eco-friendly
Covers hairline cracks
Excellent Washability
Anti-Moist
Excellent Anti-fungus
Excellent washability
Excellent hiding power
Alkali resistance
Quick drying time
Matt Finish
Excellent hiding power
Easy application
First-grade anti-stain
First-grade anti-bacteria
Excellent anti-fungus
Formaldehyde abatement
Evoke Colour Brightness
Anti-bacteria
Odour-less
Eco-sense
Excellent washability
Cover hairline cracks
Excellent hiding power
Waterproof
Durable color retention
Anti-fungus
Excellent adhesion
Zero VOC
Color
---
*Actual colors may vary. This is due to the fact that every computer monitor has a different capability to display colors and that everyone sees these colors differently.
Reference
---
Theoretical Coverage: 13-14 (m2/L/coat)
No of Coat Recommended: 2 coats
Diluent: Clean Water
Dilution Rate: 10-20% (Adjustment depends on application method)
Drying Time - Touch dry: 60 minutues (at 25ºC)
Drying Time - Recoating: At least 2-3 hours (at 25ºC)
Packing: 1 Litre, 5 Litres
Finish: Matt
Colour: 32 standard colours & Computerized Colour Matching Service Available for 931 colours which shown with "-4" at the end (e.g. RC0011-4)
*The information given applies to the product and its performance under specific test conditions. The actual data may vary slightly depending on the application conditions, methods, and surface conditions.
Associated Product
---
Paint Calculator
---