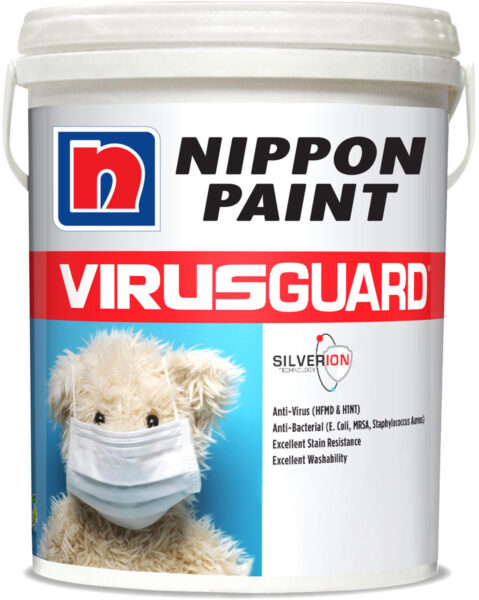 Anti-fungus
Moisture-proof
Anti-bacteria
Excellent washability
Hiding power
Cover hairline cracks
VirusGuard Anti-Viral Paint
VirusGuard is an ultra-premium, environmentally-friendly, bio-proof paint that promotes good hygiene and health. It is anti-viral and anti-baterial paint, made specifically to ensure that our wall are protceded and safe to touch. It is formulated with Silver ion Technology, which can resist the growth of up to 99% harmful viruses and bacteria on the painted surface. It is effective against Human Coronaviruses (Strain229E), Influenza (H1N1), Hand, Foot and Mouth Disease (HFMD) and many types of bacteria. Highly recommended for use on interiors of household, childcare centres, kindergarten schools, clinics, hospitals and other facilities.
Features
Increases defence against outbreak of diseases such as Human Coronaviruses (Strain229E), Influenza (H1N1), Hand, Foot and Mouth Disease (HFMD)
Effective against bacteria such as E.coli, MRSA, Staphylococcus Aureus
Excellent washability
Environmental friendly
Low odour
Import from Malaysia
Virtually no odour
Quick drying
Dirt resistance
Anti-bacteria
Odour-less
Excellent washability
Cover hairline cracks
Low VOC
Against Hand-Foot-Mouth disease
Waterproof
Against eradicating
Durable color retention
Anti-fungus
Excellent adhesion
Color
---
*Actual colors may vary. This is due to the fact that every computer monitor has a different capability to display colors and that everyone sees these colors differently.
Reference
---
Theoretical Coverage: 12-13 (m2/L/coat)
Drying Time - Touch dry: 30 minutes (at 30ºC) ; Drying Time - Recoating: At least 2 hours base on normal conditions
Diluent: No dilution is necessary for best performance
Packing: 5 Litres
Finish: Matt
Colour: White color & Creamy White series
*The information given applies to the product and its performance under specific test conditions. The actual data may vary slightly depending on the application conditions, methods, and surface conditions.
Associated Product
---
Paint Calculator
---