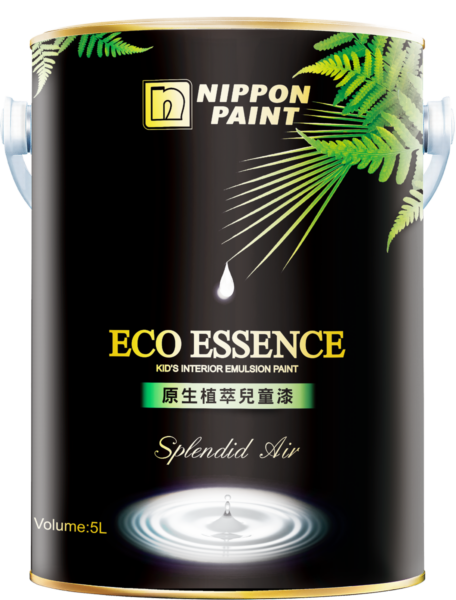 Anti-fungus
Moisture-proof
Anti-bacteria
Excellent washability
Hiding power
Cover hairline cracks
Nippon Paint Eco Essence Kid's Interior Emulsion Paint
Nippon Paint Eco Essence Kid's Interior Emulsion Paint is an odourless and eco-friendly bio-based interior emulsion paint which is formulated by natural plant extracts and certified by USDA. It reduces the greenhouse gas emissions from fossil fuels and lowers the environmental impact. This product also obtains "GREENGUARD Gold Certification" and certified by TÜV Rheinland. With the functions of formaldehyde abatement, anti-stain and anti-bacteria up to 99.9%, it can ensure safe and high performance interior finishing to people who have health concern.
Features
Odour-less, Eco-friendly
Bio-based
First-grade anti-stain
Bio-based
Formaldehyde abatement
First-grade anti-stain
Excellent hiding power
Excellent washability
Covers hairline cracks
Excellent Washability
Excellent washability
Alkali resistance
Quick drying time
Matt Finish
Excellent hiding power
Easy application
First-grade anti-stain
First-grade anti-bacteria
Excellent anti-fungus
Formaldehyde abatement
Odour-less
Eco-sense
Excellent washability
Cover hairline cracks
Against Hand-Foot-Mouth disease
Against eradicating
Excellent adhesion
Zero VOC
Color
---
*Actual colors may vary. This is due to the fact that every computer monitor has a different capability to display colors and that everyone sees these colors differently.
Reference
---
Theoretical Coverage: 13-14(m2/L/coat)
No of Coat Recommended: 2 coats
Diluent: Clean Water
Dilution Rate: 10-20% (Adjustment depends on application method)
Drying Time - Touch dry: 60 minutues (at 25ºC)
Drying Time - Recoating: At least 2-3 hours (at 25ºC)
Packing: 5 Litres
Finish: Matt
Colour: Computerized Colour Matching Service Available for 931 colours which shown with "-4" at the end (e.g. RC0011-4)
*The information given applies to the product and its performance under specific test conditions. The actual data may vary slightly depending on the application conditions, methods, and surface conditions.
Associated Product
---
Paint Calculator
---